Soothe Yourself Somatically
by Katie McClain, SEP
Activity
Video, Audio, Reading, Experiential
Duration
Proceed at Your Own Pace. Available indefinitely.
The best way to heal is with the support of a somatically trained, compassionate and empathetic practitioner or therapist. But we don't always have that available and if we do have access to a professional, they aren't with us 24/7. If you struggle with stress, anxiety, worry, depression, or trauma, The Soothe Yourself Somatically course is here to help! In the course, you'll be oriented to somatic concepts and supportive practices used and taught in my Somatic Experiencing® practice. I offer these tools to facilitate and support healing for individuals suffering from chronic stress, trauma, cPTSD, and PTSD. In the Soothe Yourself Somatically course you'll learn somatically based concepts that support self-soothing and are broken down into understandable bite-sized pieces that are easily digested and integrated. You'll receive many guided practices that you can return to over and over to help you feel better. There's a bonus section explaining compassionate and supportive self-touch, which I call Kind Touch. Learn many of the basic tools and concepts I teach to my new one-on-one clients over weeks or months but go at your own pace.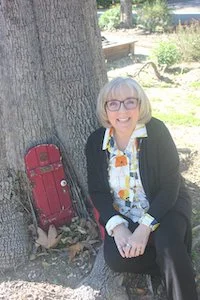 About Katie McClain, SEP
Hi, my name is Katie McClain. I am a Somatic Experiencing Practitioner (SEP) and coach with over 25 years of experience. Years ago as I did my own somatic work and came to understand, from a nervous system perspective, why I was stuck and hurting, I decided to learn somatically based healing methods so I can support others with their healing.
I made the Soothe Yourself course for individuals like you who are looking to add somatic work to their healing journey. Perhaps you are looking for a practitioner, but coming up short in finding one available or who is a match for you. Perhaps you have a therapist but want to enhance your therapy? This course was made for you!
In addition to the 3-year SE training, I've studied somatic touch methods with Kathy L. Kain, PhD; Trauma Informed Stabilization Technique (TIST) with Janina Fisher, PhD (TIST is a type of parts-work like IFS); the Safe and Sound Protocol (SSP) developed by Dr. Stephen Porges; and methods for healing attachment ruptures, early/developmental trauma, ancestral trauma with Dr. Peter Levine, Kate White, and others.
I hope you feel better using the information provided in the Soothe Yourself course!
Register Here!
$ 195.00
Register below to add your info and get started with the course today.
These Products May Also Interest You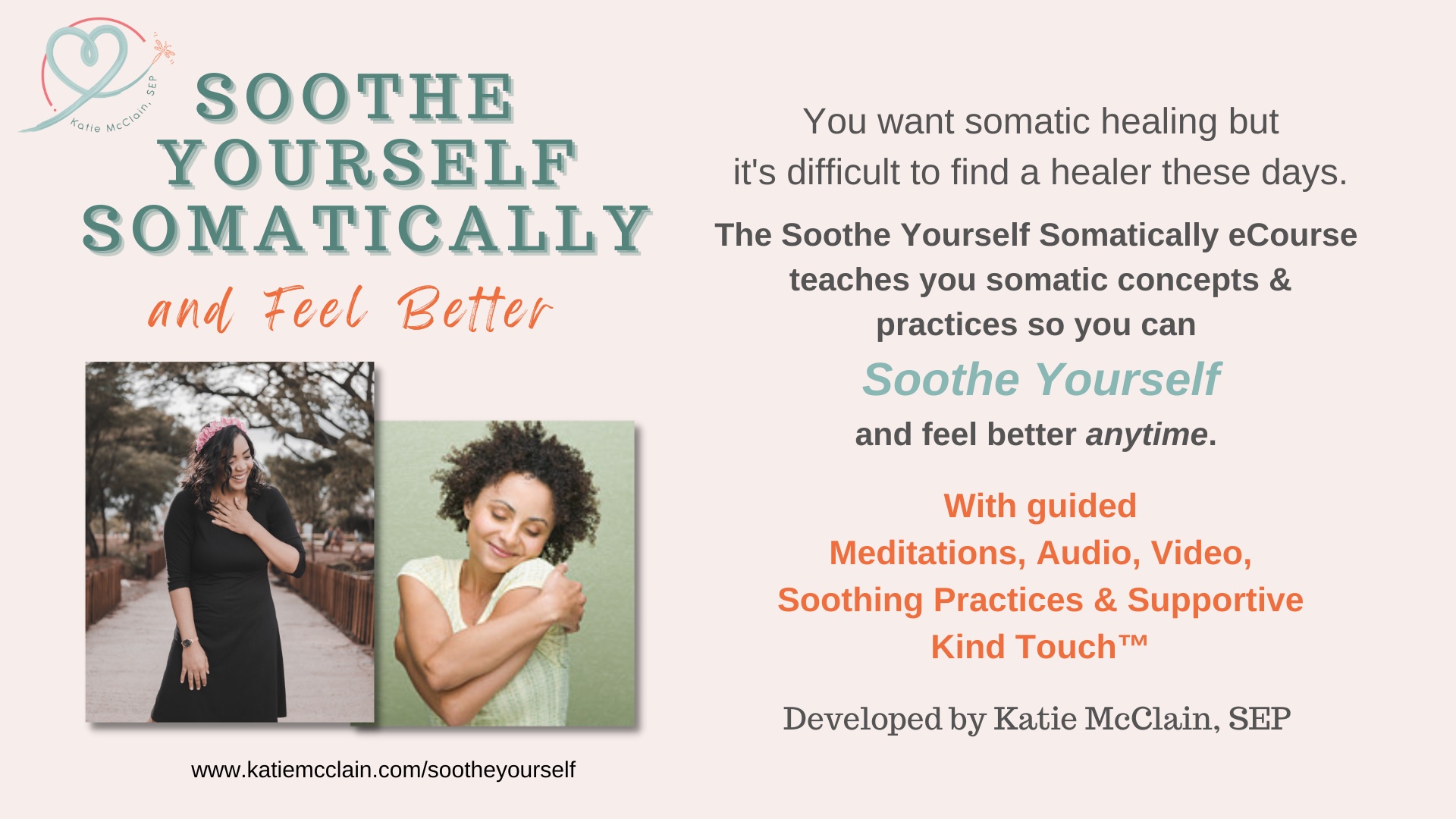 About our Soothe Yourself Somatically Course
The Soothe Yourself Somatically eCourse developed by Katie McClain, SEP. Katie is an experienced Somatic Experiencing Practitioner who understands what helps individuals with their well-being and movement toward feeling better from personal experience.
The Soothe Yourself Somatically course was developed to give you an introduction to somatic concepts along with many supportive practices to help you feel better. I've broken down the somatic concepts into easily digestible sections and bit by bit you will learn to connect with your body and why that can be so helpful with healing. The lessons are laid out in a similar pattern to the way I work with my new one-on-one clients.
You'll gain access to a nervous system and somatically based understanding of what is happening in your body and mind and why you may feel stuck in spite of years of trying to feel better. The course is designed to increase your awareness and gain a new understanding of your nervous system. I offer concepts that are useful as a starting place for those new to somatic (body-based) practices and to help build a sense of safety within you. You will have access to this course for 1 year after purchase.
**DISCOUNT AVAILABLE FOR individuals who are Black, Indigenous, and/or a Person of Color as well as the LGBTQIA+ community. Please send me a message through my contact form to ask for more information about the discount.**
Shift out of the old paradigm of push-push-pushing yourself and move toward going at the pace you and your body actually feel is right for you. You'll learn to start listening to communications from your body. You'll be coaxed to pay attention and then follow your true impulses. Included in this course is a type of soothing touch that I call Kind Touch with explanations of the science behind why it soothes us in times of stress. I'll model the Kind Touch holds for you on video. If you'd like, you can purchase a handy and adorable Kind Card Deck to carry in your pocket or purse. (sold separately)
The tools in this course will help you begin to increase your awareness as you connect with your body and mind. The information is meant to show an individual how to connect with their senses in a way that feels safe and supportive so they can increase their resilience and ease in life. This entire course is offered as a way to soothe anxiety, reactivity, jangled nerves, and/or stress.
You'll learn information and practices to help with anxiety, overwhelm, depression, worry, stress and more.
When you don't have someone there to listen unconditionally, hold your hand, offer you a hug, or talk you through a soothing practice, the Soothe Yourself Somatically course is there to help!
Click above to REGISTER so you can start feeling better!
If you are a BIPOC individual or a member of the LGBTQIA+, please accept my discounted enrollment price for this course by clicking here and getting in touch with me to find out more.
What's Inside:
Inside the Soothe Yourself Somatically course, you'll find 25 lessons. Each lesson contains education in text, audio and video formats. There are activities, meditations, and simple somatic practices. I teach these basic concepts and practices as I begin my work with one-on-one clients. The information here is foundational and prepares you for the deeper work you will do with me or another somatic practitioner/therapist.
Inside the Soothe Yourself Somatically course you'll find:
25 lessons to move through at your own pace
All lessons available immediately upon purchase

Educational overviews and instructions of somatic material in text format

Audio for those who prefer to learn while listening or listen while reading

Guided somatic practices and activities

Meditations in soothing audio and/or video formats

Kind Touch holds with video guidance

Course is available for 1 year after purchase*
*If you rush through and/or skip over actually trying out all the practices, the course will take approximately 4 hours. However, I HIGHLY recommend that you move through the course while insisting on your own personal and spacious pace.
Click above to REGISTER and start feeling better now!
If you are a BIPOC individual or member of the LGBTQIA+ community, please accept my discounted enrollment price for this course by clicking here and getting in touch to learn more.