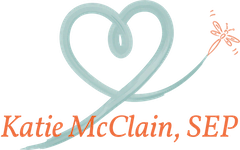 It really is possible to feel better
.
Somatic Experiencing and Other Tools I Offer
These are some of the tools available during sessions.
Is this you?
Your many efforts on your healing journey prove that you are committed and know deep down that feeling better and living a healthy life on your own terms is possible.
There are many effective paths to healing. Perhaps you've explored various avenues that didn't work out for you. Talk therapy is helpful for some, but if you're like me, telling your story over and over again may not have yielded the results you desire. What many therapeutic models often miss is a somatic, trauma-informed lens and an understanding of the autonomic nervous system.
All of your experiences – including your birth and the experiences of your ancestors – can inform the ease or unease in which you move through life and the ways you experience the present moment. We don't have to know all of the details of our story to heal, but there is a lot of information and many tools that can make a difference in how you feel.
Your body, brain, and spirit want to heal, I provide the presence and support so you can.
Healing happens in relationship with a compassionate and experienced guide. With caring, non-judgmental support, we can gain awareness and mastery working with and transforming the patterns at play that repeat and keep us stuck in an unhealthy loop. I am a teacher at heart. Working with me will help you to build capacity, open up to new awarenesses, and understand the patterns and parts of you that interfere with living your best life.
I invite you to learn more about me and my approach by exploring what I offer here on my website. My sincere wish is that you find the healing and sense of flow in life that you seek.
These Online Courses May Interest You
These Books May Interest You